Puli Space reserves a ride to the Moon with Astrobotic
Tibor Pacher
-&nbsp&nbsp 31 August 2016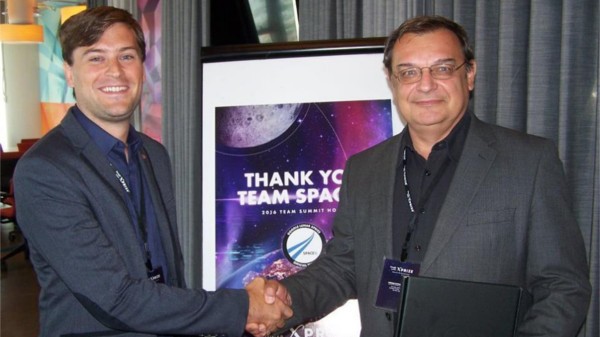 Astrobotic Technology, Inc. and Puli Space Technologies Ltd. announced today at the Google Lunar XPRIZE (GLXP) Summit in Tel Aviv, Israel that they have signed an agreement to fly the first Hungarian payload to the Moon on Astrobotic's upcoming first mission. The Hungarian team, Puli Space, joins fellow GLXP Teams HAKUTO from Japan, and AngelicvM from Chile, in reserving a ride to the surface of the Moon on Astrobotic's Peregrine lander with a "Memory of Mankind (MoM) on the Moon" time capsule and an option to add their rover. This new partnership with Team Puli further extends Astrobotic's mission of making the Moon accessible to the world by adding a seventh nation to be represented on their inaugural flight.
With this payload reservation, Puli Space will send a unique time capsule for the MoM on the Moon project. The capsule will hold ceramic tablets containing archival imagery and texts of up to 5 million characters per tablet, readable with a 10x magnifier.
"To fly with Astrobotic to the Moon is a unique opportunity for our team to set another exceptional mark in the long success story of Hungarian scientific and technical achievements. We are extremely proud to participate in this historical mission, and with this Moonshot I believe we shall offer another great example that Hungarian engineers and scientists can compete with anyone anywhere in the world."
– explained Dr. Tibor Pacher, Puli Space's founder and CEO.
"We are very excited to welcome Team Puli to join us on our mission. With this agreement, our upcoming mission will triple the number of nations that will have landed on the Moon, making this truly an international endeavor of historic proportions."
– said Astrobotic CEO, John Thornton.